Do you want to learn how to open a PDF file in AutoCAD? You've come to the right place! Before we get started learning how to convert PDF to DWG and DXF, please note that this article covers solutions for converting computer-generated (vector) PDF files. The recommendations will not work for scanned drawings, which are raster PDF files. To learn the difference, see:
The Difference Between Vector and Raster PDF Files
Problems Converting Scanned PDF Files to CAD
Versions of AutoCAD 2017 and newer offer a basic way to open a PDF and convert it PDF to DWG as a built-in feature. If you want enhanced PDF import or have an older version of AutoCAD, read on for solutions. If your software doesn't support PDF import or does it badly, which is often the case, you are in the right place. Let us help you learn how to convert PDF to DWG, DXF, and HPGL. Further along, we'll provide an example of opening and editing a PDF file in AutoCAD using pdf2cad but let's start with an overview of what's possible.
AutoCAD is the originator of the DWG and DXF formats. Today they continue to work with both formats while the Open Design Alliance also develops an open version of DWG format.
View Current Autodesk promotions
Visit the Open Design Alliance to find out more about their DWG-based CAD development platform
PDFin for AutoCAD is available for all versions of AutoCAD, going back to 2002, as a plugin.
For power users who need complete control over conversions as well as batch and multipage features, try pdf2cad.
How to Scale a PDF file in AutoCAD
Using pdf2cad, you have a high degree of control over conversion options, including scale factor. When a PDF is created, the details about dimensions are lost. You need to look at the actual ratio printed on the original PDF drawing to determine how to scale the PDF file in AutoCAD or whatever CAD program you are using. Once you have this, you can set the proper scale factor, which is a number that represents the amount the drawing will be enlarged or reduced relative to the original. The scale factor maintains the exact aspect ratio automatically, so the drawing is simply made bigger or smaller with no change to the shape.
During the process, click the "Options" button and go to the "Page" tab. There, you can set a number of features, including the scale factor for the drawing and specify inches or mm. By doing this, your drawing will open to scale, matching the original.
Should I Convert PDF to DWG or PDF to DXF?
If your program supports it, and it's the native format, DWG is the better choice to convert your PDF file. Both formats are feature-rich but large and complex. Both were developed by Autodesk. DWG is the proprietary internal AutoCAD format and has had many iterations over the years. DXF, or Drawing Interchange Format, was developed to be an exchange format for CAD. Today, more and more CAD files are being exchanged as PDF files.
Because the Open Design Alliance develops and maintains an alternative DWG format, many other CAD programs also use DWG as their native format, including DraftSight, AutoCAD, BricsCAD, IntelliCAD (and its variants), and other ODA member applications. DXF is a widely used format as well, especially in CNC applications. The files tend to be very large so you just need to be aware of this.
3 Ways to Convert PDF to DWG – Standalone Program, Plugin, or Online
Plugins are programs that install within an application to add functionality to a CAD program itself. Standalone programs install on a PC or Mac and generate a file that can then be opened in your CAD pad program. Both are useful, but the standalone programs tend to offer more features as well as support for batch and multipage conversion.
This is the case for our plugins – PDFin for AutoCAD and pdf2bricscad, which open one-page files with a few conversion options. pdf2cad is a powerful utility capable of converting many files at once and has many options that the user can select prior to conversion regarding size, scale, orientation, attributes, layers, and text. The plugins are like 5-function calculators while the standalone programs are like scientific calculations. Most people will have everything they need with the plugins. Power users will need a dedicated desktop PDF conversion program.
The newest way to convert PDF to DWG online is with ConvertPDF.Online. It's a subscription service where you upload your PDF file, choose the output format (DWG, DXF, HPGL), and then retrieve the result from a customer portal or email link. The great thing about the cloud approach is that you don't need to get through a software learning curve or figure out what all the conversion options do. You'll only be presented with settings that are relevant to the conversion you are doing.
When I Convert PDF to DWG, What Can Be Edited?
CAD files are composed of "Objects" which together make up the appearance of the drawing. Object types include layers, lines, curves, shapes, and text, to name a few. The objects have properties and attributes like colors, line types, line weight, transparency, scale, radius, dimension, and plot style. When converting from PDF to DWG or DXF, look for a program like pdf2cad that can convert all of the objects in a drawing while giving you control over the process.
When Will My Program Be Able to Open a PDF File?
As mentioned, many CAD programs now natively open PDF files. If you are here, your's probably doesn't, or it doesn't do it well. Many of the CAD companies use our API to add PDF Import and Edit to their programs. Use the Contact Form to ask us about the program you use. Chances are that we are working with them and know their plans.
Three Ways to Open a PDF File in a CAD Program
There are three ways to open a PDF file in a CAD program – as a tracing layer, as an underlay, and as an editable CAD drawing. The least functional is the tracing layer. With this, you simply create a layer underneath your drawing with a scan to use as a redrawing guide. The Underlay also sits below the drawing but is a vector file. This means that you can snap and clip your drawing to the underlay. Finally, the most powerful way to open a PDF file in a CAD program is to import it as a vector drawing (DWG or DXF). Using this approach, all layers, objects, text, and attributes can be modified.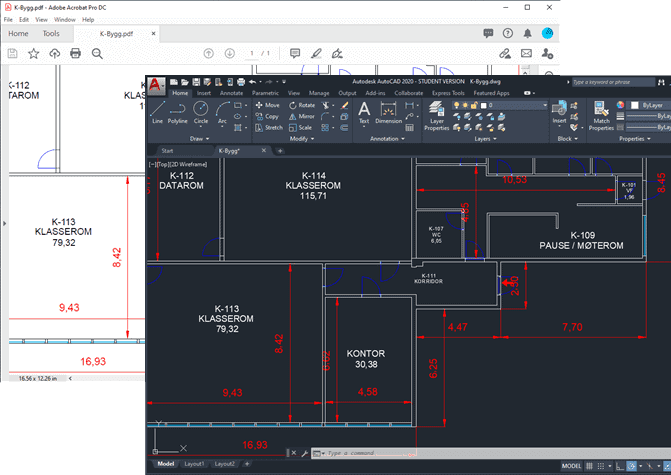 EXAMPLE – Convert PDF to DWG – Editable vector drawing
Open and edit PDF drawings in CAD Programs in four easy steps. These steps assume that you have already installed pdf2cad on your Windows or Mac PC and that you can access it from the Start Menu, Desktop, or Quick Launch Ribbon. Download the pdf2cad 30-day Trial or convert a test file now at ConvertPDF.Today.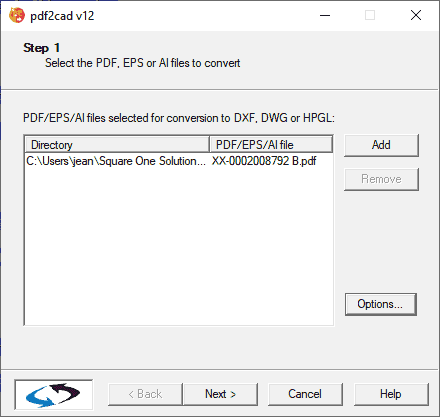 Launch pdf2cad and choose the file(s) to convert. Supported formats are PDF, EPS, and AI (Adobe Illustrator). You can convert one file or many files. Click Add and Remove until all the files for conversion display.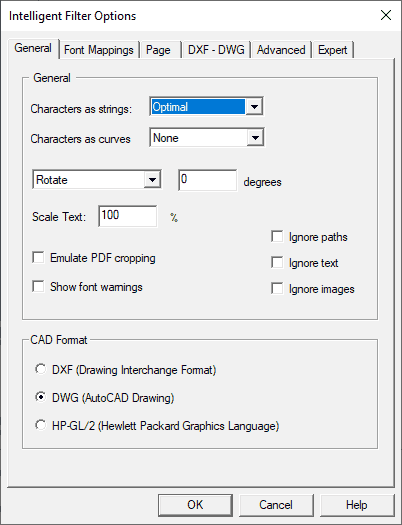 This screen includes to most used pdf2cad options. In most cases, the default options are fine. If you want to learn more about all of the options available on each tab, please read " PDF Conversion Options." If you know your PDF file is not oriented correctly, choose Rotate to ensure the results are what you expect. Then, choose your CAD Format – DWG for AutoCAD, DXF for most engineering and technical programs and HPGL for plotter specific applications.
Choose where you want the converted files to be saved. The default is to place them in the same directory as the originals. Review the Conversion Summary and make any adjustments. When you are satisfied, click Convert.
Once the conversion is finished, launch your CAD or technical drawing program and Open the file. Depending on the program, you will either use the Open or Import menus.