Many industry-leading software, hardware, and appliance manufacturers rely on Visual Integrity's proven technology to embed PDF features in their apps or services. Examples of how OEMs use our PDF SDKs include:
PDF import and edit
PDF conversion service on-premise or in the cloud
PDF to image converter
PDF optimizer
PDF Object inventory
PDF text extraction
PDF object modification
PDF creation from data or scratch
Simple to Integrate
The PDF SDK requires two library calls to convert or create PDFs. The PDF Objects SDK gives you extensive control over the elements of a PDF file, allowing object deletion, replacement, and more. It's ideal for document management systems, centralized document databases, archival, and content management systems. It's free to try. Download a fully functional evaluation license.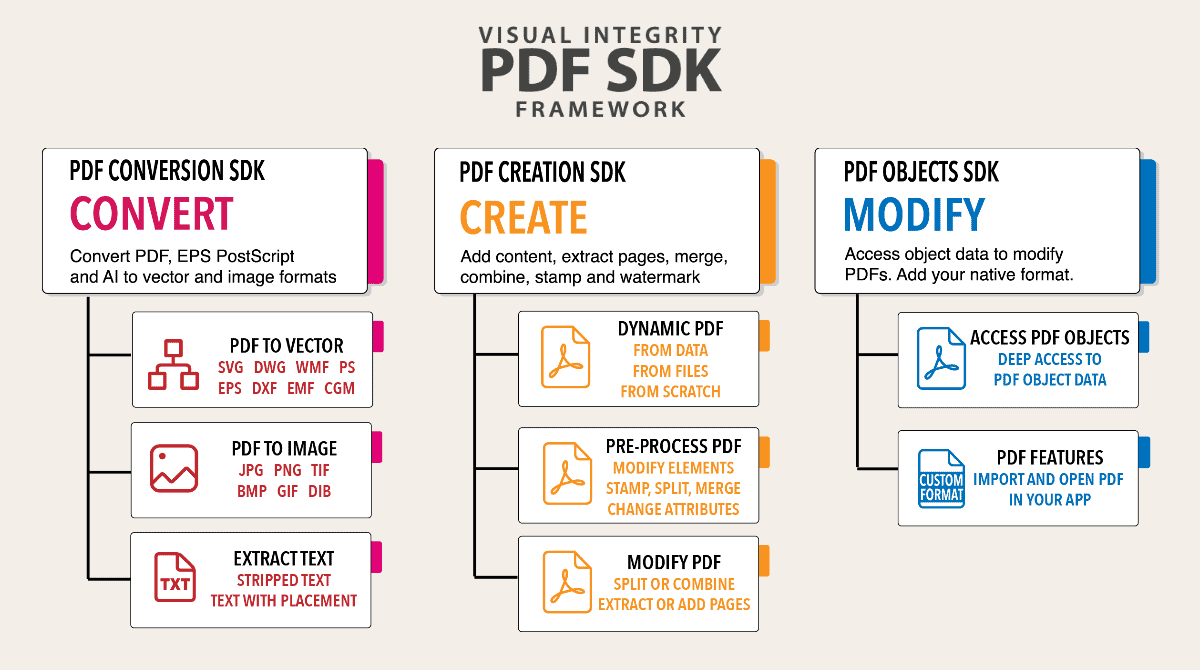 Flexible Licensing
The PDF SDK framework is comprehensive. Some developers need one feature, and others use multiple components. We keep licensing simple. Pricing is based on what you use and how you are using it. The standard version of an SDK can be purchased online for non-commercial use. It's ideal for corporate developers and system integrators. OEM pricing is quoted on a case-by-case basis and considers how many customers you reach and how much of the SDK you use. Please contact us or book a call to discuss your requirements.
Top Notch Support
Visual Integrity has been pioneering PDF and graphics conversion solutions for 30 years. We have consistently earned high marks for our customer service because we provide developer-to-developer support and continuous updates for subscribers.
Contact Us
Please let us know how we can help you. Our PDF SDKs and PDF Conversion server are available for Windows, macOS, and Linux. Features can be embedded in applications or delivered through the cloud. We welcome conversations about how our tools can advance your apps or provide checklist features like PDF import. Contact us with the form below or book a call.
We're looking forward to hearing from you!
OEM Inquiry Form