Transform your PDF into an SVG cut. Use the free service at ConvertPDF.Today and follow these steps.
Total Time: 10 minutes
Select your PDF file.
Choose the PDF file that contains the design that you want to cut. Open it to verify whether it is a bitmap image or a vector graphic. The best way to see this is to open the PDF and magnify it to more than 800%. If the lines look crisp and clear, it's a vector. If you can see pixels, it's an image.
Choose Output Format
Once you determine the type of PDF, choose SVG for vectors and PNG for bitmaps.
Choose Conversion Options –
When preparing a graphic for cutting, it's good to remove all the white space, or margins, on the page and crop the drawing to its bounding box. Choose u0022No Marginsu0022 to do this. If you want the entire page, including the margins, choose u0022Whole Page.
Decide How To Format Text

If you don't need to edit the text in the final design, choose u0022Convert Text to Curvesu0022 to ensure a 100% WYSIWYG match. This is also known as text as outlines or paths. If you plan to edit the text in your cutting software, choose u0022Editable Text.u0022 If you select editable text, you must have the included fonts on the target system to ensure an accurate match. Note the font names by reviewing Document Properties, Fonts Tab in the original PDF. Most applications will substitute a close font if the original is not available. You can also check the font choices in your cutting app to select a replacement.
Save SVG or PNG and Open in Cutting Software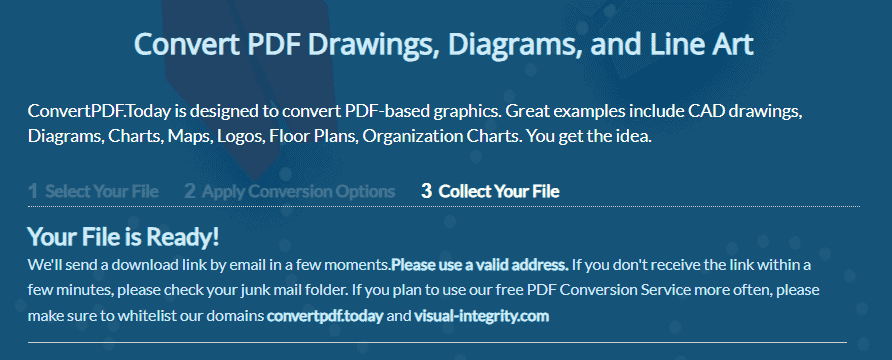 Once you have selected all the appropriate options and saved or downloaded your SVG (vector) or PNG (image) file, open or import it into your cutting program and follow the application's instructions to prepare it further for cutting.
Supply:
One page PDF filen
PC, Mac or Chromebook with browser
Cutting software such as Cricuit Design Spacen
Tools:
https://ConvertPDF.Today, or
Trial of pdf2picture
Materials: PDF file