IMPORTANT! PDFin is a plug-in and requires an Autodesk application to run
Open and Edit PDF files from within AutoCAD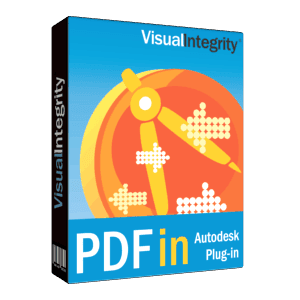 The PDFin plug-in opens PDF files for editing directly within AutoCAD and other Autodesk applications. It's not just another PDF Viewer or Underlay… It's more! It extracts editable objects and text from the PDF and presents you with a drawing that's good to go.
Certified and available via the Autodesk Exchange Store or directly from Visual Integrity, the PDFin plug-in unlocks a PDF drawing in one easy step. Once installed, you access the app via command line or from a toolbar icon. PDFin will immediately open any computer generated PDF file. These vector PDF files are created using save, export or print-to-file on a computer. PDFin is unable to extract drawings from scanned drawing or hand drawings.
All objects can be modified. Text will be editable as MTEXT as long as it was stored as characters in the original PDF file. If it was "plotted" as pen strokes, the text will appear but can not be edited. The PDFin plug-in is not for scanned drawings and other raster PDF file. The PDF Underlay feature in AutoCAD can be used for these files.
The PDFin plug-in opens one page PDF files. For multipage conversions, support for layers, custom rotation and other advanced options, consider purchasing pdf2cad.
We are proud to be one of the first suppliers of plug-ins for the Autodesk Exchange Apps. Learn more about the exchange and the benefits available for Autodesk customers.
Features in PDFin
Directly opens PDF drawings in AutoCAD
Tightly integrated with AutoCAD
Operates via AutoCAD command line (pdfin), menus and ribbon toolbar
Generates editable objects
Intelligent object recognition
Combines characters to form editable words and lines of text
Plotted text is rendered as non-editable WYSIWYG objects
Fonts matched or substituted closely when font is not installed on system
Realtime feedback reporting of messages, warnings and errors
Streamlined interface for fast, easy conversions
IMPORTANT! PDFin is a plug-in and requires an Autodesk application to run
​
Frequently Asked Questions about PDFin
If you can not easily find what you need in the FAQ, please contact us at support@visual-integrity.com.
Tutorial: Using PDFin for AutoCAD
Double Click to install the PDFin (formerly pdf2AutoCAD) plugin. Open AutoCAD or another compatible Autodesk program. The PDFin plug-in can be run two ways – either via command line or from the Toolbar.

To run via Command Line, type "pdfin".

To run via the Toolbar, select the icon. You may need to add it if you have a customized interface. Once the PDFin icon is added to the Toolbar Ribbon, you can use it to instantly open any vector PDF file in AutoCAD.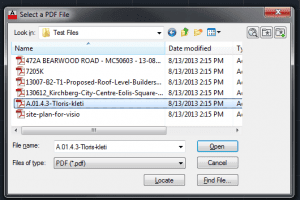 Select you PDF file to open.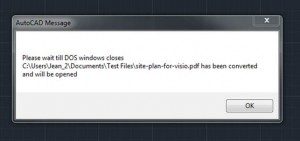 Wait for any messages or warnings to complete and then click OK to view the PDF file in AutoCAD.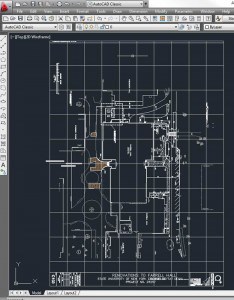 Once the file is displayed, you can edit the objects and text.