PDF in PowerPoint
How to Use PDF in PowerPoint
PDF files are a rich source of graphics. They can contain logos, charts, diagrams, drawings and illustrations. There are three ways to include PDF, but only one way to edit PDF, using PowerPoint.
★★★ Leverage the Vector Graphics in PDF. Open the PDF file in PowerPoint using an add-in that enables editing. Once ungrouped, all elements and attributes on the slide are editable. Plus, everything scales without loss of quality. Use the graphic in PowerPoint, Word, Publisher or any other vector-based editor. 
Show Static PDF Content on a Slide. Take a screen snip from the PDF and paste it on the slide. Because it's reduced to a bitmap image, it loses clarity when resized and is not editable. In some cases, this is desirable, but usually, it's better to use the vector graphics for top quality and flexibility.
Embed the Entire PDF Document in a slide. Sometimes, it's helpful to have a full PDF document available on a slide to page through during a presentation.
Why Use Vectors?
Vectors have the most to offer. Using PowerPoint drawing tools is a great way to uncork the potential of PDF graphics. All elements and attributes are editable, and, If you need to make a change in the future, it's always ready for editing, Bitmap images need to be regenerated every time making them less than ideal and much harder to match. Vector graphics scale and change with your presentation's needs. And, they work outside of PowerPoint as well. Copy and paste them into Word, Publisher, Excel Visio and other applications. They remain editable there too!
This article, focuses on how to open and edit vector PDF files in PowerPoint. If you don't know whether you have vector or raster PDF files, please read Know your PDF Types.
PDF in PowerPoint Example
Our example below uses the 2017 World Wildlife Fund Annual Report. The logo comes from the report cover is scaled up from postage stamp size to span one-third of the slide. Financial information is from page 33. Everything is deleted except for the two donut charts, where color, text and size are modified to highlight the importance of individual contributions to WWF. 
You can do this yourself. A simple PowerPoint add-in unlocks these graphics in PDF files. Download Insert PDF in PowerPoint. Then, open a PDF file as a slide. Ungroup and change whatever you want. Everything is fair game - scale, color, line widths, objects, text, and fills.
Steps for Using PDF in PowerPoint
Step 1
Navigate to the PowerPoint "Insert" menu and select "Open PDF" from the ribbon toolbar.

Step 2
Choose the PDF file from your file system and select options such as rotation and page number. 

Step 3
Your blank slide now contains the PDF page. Ungroup the slide if you did not select automatic ungrouping on the Options screen. Select and delete the objects you don't want and keep the ones you do. Change colors to highlight important information, add a large logo, change fonts, and more.
BEFORE
AFTER
Step 4
Use the graphic in PowerPoint or save it as WMF or SVG for use in other applications or on the Web
Notes on Editing PDF in PowerPoint
Is your drawing scanned?
Before converting, make sure that your PDF file is not a scanned image. If it is, it is not editable at the object level. Only computer-generated vector PDF files produce editable objects. Knowing whether you have a vector or a raster PDF file is key to success >How to determine PDF file type.
Text as Curves
If you can select text in the original PDF file, then it will be editable in the PowerPoint file. If you can't grab it, then it is either comprised of curves or plotted. Both of these reduce the text to a series of curves or pen strokes that represent text. They are graphics and can not change. You can use them as a guide to add regular text if desired.
If the text doesn't mirror the PDF once in PowerPoint, you have a font issue. The same font may not be on the target system or, it may be the same but go by a different name. The font mapping feature handles these mismatches. They occur because of font incompatibilities across systems. As odd as it seems, the very same font can have a different name on two different PCs. Because of this, we offer font mapping. Using this feature, you can create a link between two font names. As a result, the text appears as intended in PowerPoint.
Font Substitutes
If a font in the PDF file does not exist in PowerPoint, we'll choose a close substitute. This will be one of the fonts generally available on all PCs. Usually, it will be close enough to not be noticeable. If you want the identical font, license it from a font vendor like Adobe, FontShop, fonts.com, or Monotype, to name a few.
Ungroup, Ungroup, Ungroup
Grouping, ungrouping and nested objects are fundamental to vector graphics. Each mode serves a specific function. When first opened, the diagram displays as one group to prevent unintended editing. To start working on the individual elements, ungroup per the steps above. You can isolate a grouped object in a nest while you work on it, keeping the rest of the graphic locked. Learn more about groups.
Regroup before Resizing
If you want to scale the drawing, always "regroup". Do this by selecting Group, Regroup. Grouping makes one entity out of many and ensures that everything scales

proportionately

.
Choosing an Import Format
If you use the Insert PDF add-in for PowerPoint, your PDF slide will be in the native PowerPoint format. But, if you use a stand-alone program like pdf2picture or PDF FLY, you'll need to choose a format to feed PowerPoint. The best options are WMF, EMF, and SVG. WMF is almost always the best choice because it's the basis of the PowerPoint format.
Ask for Free Advice
If you try to convert a PDF but are not getting the results you expect, ask us to troubleshoot it for you. It's free and we are happy to help you achieve optimal results. Send your PDF file along with any comments to support@visual-integrity.com. The most complete requests receive priority.
Contact Us About Using PDF in PowerPoint
Please get in touch if you have questions or if you have problems finding the right steps for using PDF in Visio. We're happy to help!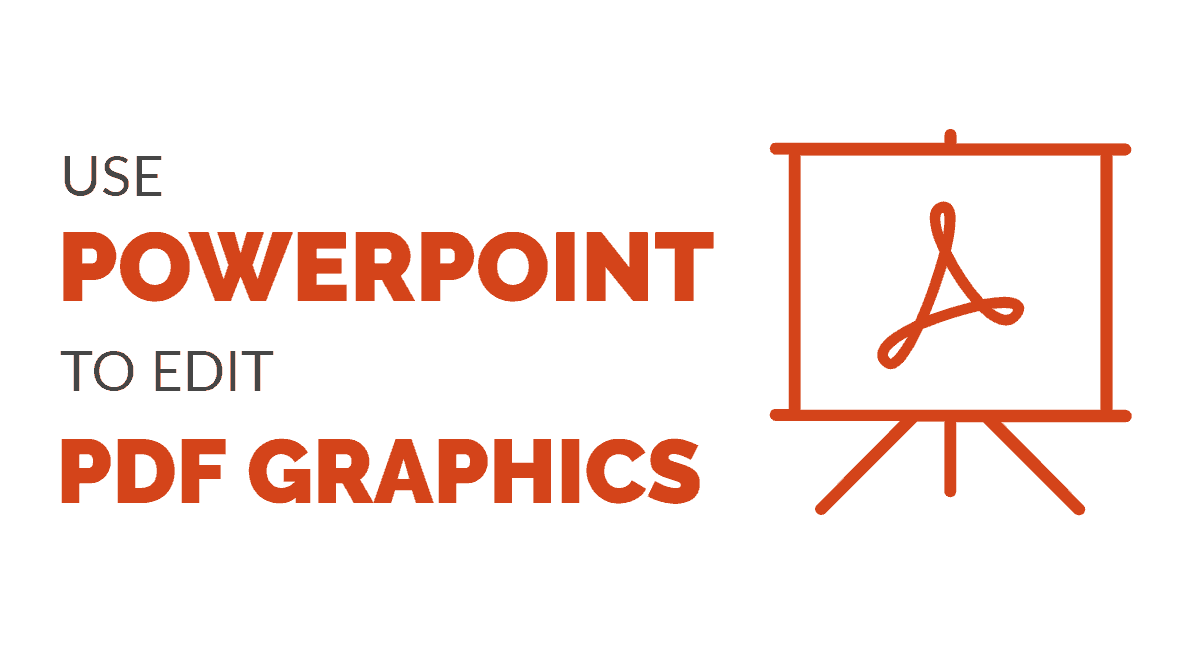 PowerPoint is not just for making presentations. It's a truly great alternative to expensive and complicated drawing and illustration programs. Plus, it's probably already on your PC or Mac. Use PowerPoint to work on your logo, company graphics or any other type of vector graphics. It's intuitive and integrated with the rest of your Office applications.