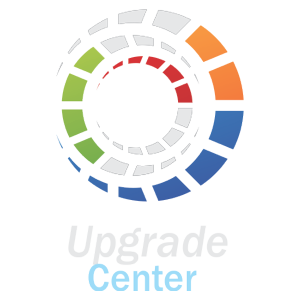 Our developers are always busy. Whether the improvements are based on customer feedback or their own great ideas, our products just keep getting better. With a mature code base built over almost 20 years and the constant injection of new features, you'll want to be up-to-date. If you have an Advantage Support subscription, you'll be provided a download link for all new updates, major or minor, as they happen – for free.
For customers who don't get the free updates, upgrades and new versions that come with an Advantage Support subscription, we offer fee-based version upgrades. Add Advantage Support during the upgrade process to ensure that you receive all new updates and new releases throughout the coming year. It's a great value at 50% off with the purchase of an upgrade.
Upgrades are released from time to time for all products. Advantage Support subscribers are the first to know prior to public release. We use the following terminology to categorize releases:
Minor Release or Update – This is an in-line release to correct a problem or make a minor change to a feature or function. Typically, this will be referred to a a new build of the current release. For example, v8.5 Build 8013.
Upgrade – This version contains improved functions and cosmetic fixes. it usually does not include major new features but may. It's good to review the change log to see if one of the new features you've been rooting for has been added. An upgrade would be a change in the decimal place such as from v8.5 -> v8.6.
New Release – Every 18 months to 2 years, we release a new version of the products. These major upgrades include new features, formats, and functions as well as enhancements, bug fixes and cosmetic changes. We count on user feedback for these releases so please be sure to tell us what you would like to see. A new release would be from 8.6 -> 9.0.
Some customers never need to upgrade while others always like to be completely up to date. It really depends on which product you have and how you are using it. If you'd like advice on whether you should upgrade or if would be a good candidate for Advantage Support, contact us and we'll guide you.
For upgrades to Workgroup Licenses or Developer Products, please contact us for your customized upgrade link.
Step Through the Upgrade Process
1. Launch the software and click on the two arrows in the lower left of the screen to reveal the "About" screen.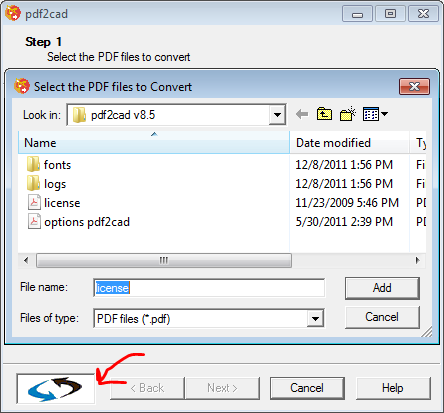 2. Check your version # against the current version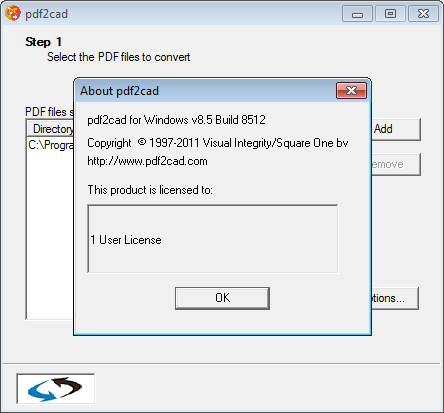 3. Check the New Features list for the newest release to see if you want to upgrade. If you have Advantage Support, you'll get it for free! That's it…
Step Through the Upgrade Process
I've been using pdf2cad since 2006. Each time I upgrade, I am amazed at how much better the software gets. Now I can separate layers and map fonts. I'm looking forward to text recognition next! Keep up the good work. E. Lundgren; Sweden