New! pdf2picture v10 Available Now!
Edit PDF in Visio with pdf2picture™. Transform your vector PDF, EPS and AI files into editable vector drawings, scalable vector graphics (SVG) for the Web and high-fidelity image formats. pdf2picture is an ideal companion for Visio, Microsoft Office, Publisher®, Google Apps, SketchUp and more.
Choose vector or image mode and pdf2picture will produce the best format to enhance your documents and presentations. Choose vector mode (WMF, EMF, EPS or SVG) if you want to extract the objects and text for editing. Image mode (JPEG, GIF, PNG, TIFF) is excellent for resizing images or making them Web-ready.
Buy the Windows version below or click Pricing for more options.
pdf2picture
Transform PDF files into editable vector drawings or high-fidelity images that you can work with in Microsoft Office, Visio and more. Single-user License for Microsoft Windows.
$59
Save: 22%
Save $13
Sale Price $46
Features in pdf2picture
New! Convert PDF, EPS and Adobe Illustrator (.ai) formats
Use either vector (WMF, EMF, EPS and SVG) or image (JPEG, GIF, PNG, TIFF, BMP) modes
Convert single files or multiple files using built in batch mode
Accurately reproduces objects in the native Windows vector format
Supports HTML5 standard Scalable Vector Graphics (SVG), a widely used format in applications and on the web.
Exports editable EPS files for desktop publishing and print production.
Preserves searchable PDF text as editable text in vector output
Merges characters into words and one-line text strings for improved editing and searching
Apply font name mappings during conversion (correct or substitute)
Automatically preserves original PDF sheet size
Rotate output by any degree
Crop output to eliminate white space
Emulate PDF clipping/cropping commands
Ignore vectors, images and/or text during conversion
User-definable syntax for naming multi-page files
Converts multi-page PDF to multiple single-page Web images
Simplified interface for more direct conversions to WMF
Includes free WMF viewer
Improved reporting on errors and warnings
Expanded support for non-standard font encodings
General features & compatibility
Runs on Microsoft Windows® (32-bit and 64-bit OS in 32-bit compatibility mode), Windows Vista®, Windows 7, Windows 8 and 8.1
Supports all levels of PDF through the current Adobe® PDF specification
Easy wizard-style Windows interface
Pictures produced compatible with Microsoft® PowerPoint®, Microsoft® Word, Microsoft Publisher, Microsoft® Excel®, Microsoft Visio, Google Apps and more
Select file using Windows Explorer functionality or by dragging a PDF file into pdf2picture
pdf2picture is the perfect graphics companion for Microsoft Office. With just a few clicks, you can make the most of your PDF files in Office applications. With optional add-on's, it can be extended for use by systems integrators or developers. Options include:
Note for our customers:
If you have purchased any of our products and want to upgrade, please visit the Upgrade Center. Please have your serial number or original order number available to validate the update. If you are a current user of a competitors' program and want to trade-up to pdf2image, let us know and we'll give you a coupon code to use.
"I tested the eval version against a multi-page PDF document with vector images on pages 8 to 13. It worked sweetly. I'll get my credit card!", Nick Ruddock, Queensland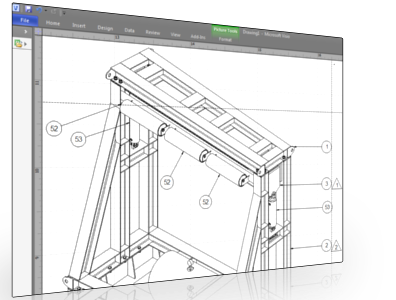 Nick needed to convert multi-page PDF files with CAD drawings into a format he could edit in Visio. We implemented a change in font mapping and another to fit drawing to page based on his feedback. Thanks Nick!