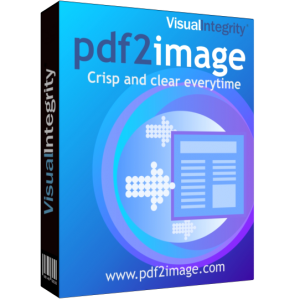 Do more with PDF files!
pdf2image converts PDF files into high-quality JPEG, GIF, PNG, TIFF and BMP images for publishing on websites or for use in applications such as Microsoft Word, Microsoft Publisher® and Microsoft PowerPoint®.
Enhance your office documents, newsletters, emails or your websites with images that are just the right size and resolution. Web publishers can choose from JPEG, GIF and PNG for crisp display or email broadcast. Microsoft Office users can add high-fidelity images to their presentations, reports, brochures, bulletins and other works. Buy the Windows version below or click Pricing for more options.
Features in pdf2image
Convert PDF files into the most useful image formats – JPEG, PNG, GIF, TIFF and BMP
Ideal for website graphics
Accurately reproduces graphics, text and layout of PDF pages with high-fidelity even at lower resolutions
Options to set dimensions or resolution at time of conversion
Remembers last-used settings
User-definable options to add numeric suffixes to organize multi-page files
Advanced anti-aliasing for text sharpening
Cropping to remove margins
Improved reporting on errors and warnings
Streamlined interface for faster and easier conversions
Adobe software not required
Noise correction
Choose compression to reduce file size
Converts multi-page PDF to multiple single-page Web images
Upgrades available to launch via command-line, batch file or watch folder
Optional SDK for API/DLL access to conversion engine
Platforms & compatibility
Runs on Microsoft Windows® (32-bit and 64-bit OS in 32-bit compatibility mode). Certified for Windows Vista® and Windows 7.
Easy wizard-style Windows interface
Supports all levels of PDF through the current Adobe® PDF specification
Images produced are compatible with Microsoft® PowerPoint, Word, Publisher, Excel®, Visio most other applications that import images.
pdf2image delivers professional results with just a few clicks. It's designed for anyone who needs to convert PDF files to image formats on Microsoft Windows-based PC's. It can cost-effectively be extended for use by systems integrators and developers alike. Options include:
Note for our customers: If you have purchased any of our products and want to upgrade, please go to the Upgrade Center and have your serial number or original order number handy. If you do not know it, please contact us. If you are a current user of a competitors' program and want to trade-up to pdf2image, let us know and we'll give you a coupon code to use.
"We use pdf2image to publish our store specials each week – nothing else we tried came close for sharpness or clarity. The support has been fantastic!", John Lucci, Lucci's Market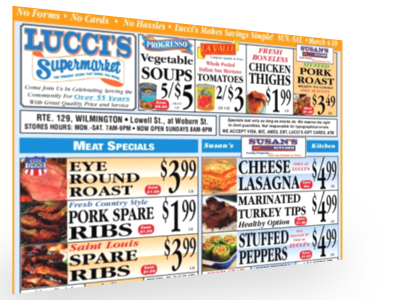 Lucci's Market performs weekly conversion of the store specials received from their distributor in PDF format. With a quick run through pdf2image, the specials are instantly pumped to an online web page and sent out in a promotional email to loyal customers.