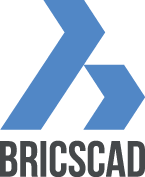 Edit PDF drawings in BricsCAD
pdf2bricscad is a dedicated plug-in for BricsCAD. Based on the proven, best-selling stand-alone pdf2cad for Windows and mac OS X, pdf2bricscad opens PDF files and renders them on-screen as editable BricsCAD drawings. All objects and text will be extracted and quickly and accurately. pdf2bricscad will successfully convert computer-generated PDF files, it is not designed to convert scanned drawings (raster PDF). These scans will be presented as an underlay or tracing layer.
As part of the Bricscad partner program, Visual Integrity has released a plugin which converts vector engineering drawings, saved as Adobe PDF files, into DXF files which can be opened and edited in Bricscad.
About BricsCAD
BricsCAD® is the powerful CAD software platform unifying the familiar feature set of native dwg with advanced 2D tools and intelligent 3D direct modeling on Windows and Linux, and this at a compelling price. BricsCAD provides Application Developers with the broad suite of APIs required to deliver advanced solutions to cost conscious customers in the AEC, GIS and mechanical CAD markets.
BricsCAD V13 software is available in Classic, Pro and Platinum editions addressing needs going from simple 2D drafting to complex 3D engineering, and now also including BIM*, mapping* and assembly functionality. The software, available in more than 15 languages, can be downloaded from the Bricsys website or obtained from a BricsCAD sales point in one of more than 70 countries worldwide.