Faqs
pdf2bricscad
It's easy to tell whether your PDF file is a raster or vector format by viewing it in Adobe Acrobat.  This is important since the two file types are converted differently. Vector PDF files are best transformed through data extraction. This is accurate and precise and involves minimal manual clean-up. Raster PDF files are traced since there is no data to extract. This is an approximation and requires operator involvement as well as manual clean-up. Visual Integrity is specialized in tools for vector conversion and will produce high-quality, accurate drawings from vector PDF input. If a raster PDF or scanned drawing is run through our software, we will turn the flat image into a tracing layer for manual work-up.
If you need to:
Test #1 – The Blue Test
Start by opening your PDF file with Acrobat or Acrobat Reader. Click anywhere on the drawing. If it turns blue, it's a scanned drawing. Depending on the quality of the scan, you may have some success with a raster-to-vector tool. Alternatives are to manually redraw it or outsource it to be redrawn by a service bureau.
Test #2 – The Zoom Test
Open your PDF file with Acrobat or Acrobat Reader. Use the Magnifying Control to zoom in on a detailed section of the file. At 100-150%, it may be hard to tell the difference. Continue zooming until you are at a magnification greater than 400%.
2. Zoom
The section of the picture should be magnified on your screen and it should become apparent whether you have a vector or raster PDF file. The Vector PDF file will look clear and smooth at any resolution while the raster PDF will become dirtier and grainier the more it's zoomed. In the example below, the section is enlarged 400%. Sometimes, it's necessary to magnify the file more than 1000% when it's a high-res scan to determine the file type.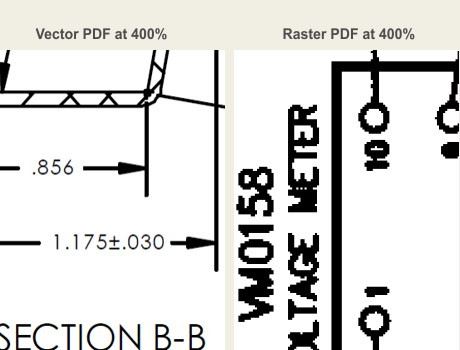 ---
pdf2cad, PDFin (formerly pdf2AutoCAD) an pdf2bricscad are different types of products. pdf2cad is an advanced, standalone PDF conversion program while PDFin and pdf2bricscad are plug-ins that require another program to run. PDFin requires AutoCAD or another Autodesk program that supports their extension API (Autoloader API). pdf2bricscad requires BricsCAD.
pdf2cad is a powerful standalone program available for both Microsoft Windows and Mac OS X. It opens PDF, EPS and AI  files as editable DWG, DXF or HPGL files. It provides many advanced features and user-definable conversion options. With pdf2cad, you can convert multipage PDF files, control layers based on color or other attributes, rotate your file during conversion and more. It converts multiple files and full directories with ease. pdf2cad costs $199.
PDFin and pdf2bricscad are plug-ins. PDFin is Autodesk Approved and available in their Autodesk Exchange | Apps. pdf2bricscad is available from Bricssys. Both will open any one-page computer-generated (vector) PDF file using controls within these programs. All objects can be modified and the file will be saved as DWG or DXF. Text will be editable as long as it was stored as characters in the original PDF file. If it was "plotted" as pen strokes, the text will appear but can not be edited. The plug-ins arenot for scanned drawings and other raster PDF files.
---