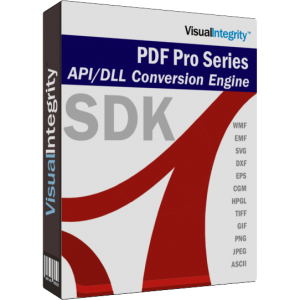 The Ideal PDF SDK
The PDF Pro Series SDK offers unparalleled value and performance for Windows developers. In just two calls, the power-packed DLL is ready to go. Set custom conversion parameters using an easy-to-edit configuration file and the implementation is complete. It's that easy! In no time, an application will support PDF import and export to all industry standard vector and raster formats. Text extraction, both stripped and formatted is also possible. Designed for corporate developers and light commercial use, the PDF Pro Series SDK is value priced. If you need a commercial, multi-platform or enterprise SDK, see FLY SDK.
PDF Pro SDK Features
Input format: PDF Output formats:
Image Formats: JPEG, GIF, PNG, TIFF, BMP
Text Extraction SDK – ASCII, supports Unicode
CAD/Engineering Formats – DXF, HPGL, CGM
Web Vector Formats: SVG, Web CGM
Metafiles – WMF or EMF
Print/Exchange formats: PDF, PostScript or EPS
Features
Simple API/DLL easy-to-edit Options file
Extensive control over conversion parameters.
Custom development can be arranged (customization, feature extensions)
Supports many mission-critical enterprise level processes such as digital archival, compliancy and regulatory applications, workflow automation, Web and print publishing and on-demand services.
Options to map, reference, substitute or outline Type 1 and TrueType fonts to compensate for font mismatches between source and target systems
Sample code and example GUI implementations
Free integration assistance prior to purchase
Supports all PDF levels
PDF Pro SDK is unparalleled in price/performance value. It's easy to implement too. Just two library calls  and some profile work is all that's needed to import PDF files and transform them into the format you require. Runs on Microsoft Windows systems. Products in the PDF Pro SDK family include:
Note for our customers: If you have purchased any of our products and want to upgrade, please login to your account. If you are a current user of a competitors' program and want to trade-up to PDF PRO SDK, let us know and we'll give you a coupon code to use.
How PDF Pro SDK works…
PDF Pro SDK is very powerful conversion engine yet simple to integrate into your application code. Only two API calls are needed to convert to any of the vector or bitmap output formats, Below is an example:
Convert 4dbar.pdf to 4dbar.png using the pdf2xxx.ini configuration file VgPsLoadOptions(PDF2XXX, "pdf2xxx.ini"); VgPsBitmapConvert("4dbar.pdf", "4dbar.png", PNG, NULL);
The first API call refers to the configuration file (pdf2xxx.ini) which can be edited simply with a text editor such as Notepad. It contains instructions on how to perform the conversion and which attributes to apply. A few line look like this:
tiff_dpi(150)

tiff_compress(LZW)

tiff_bpp("colormap")

digitspage_number(0)

firstpage_number(0)

color_mode(IMGCUSTOM)

image_quality_factor(100)

gif_transparencycolor(255, 255, 255)

jpg_cmyk(0)

image_pdfcrop(0)

image_size(SCALE, 640, 480)

multipagetiff(0)

tiff_cmyk(0)