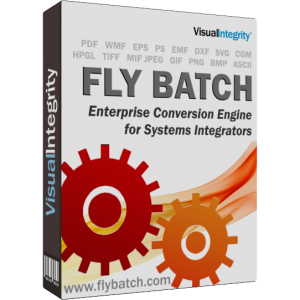 More than a PDF Server
FLY Batch is an affordable and accurate production server which effortlessly converts PDF as well as PostScript, EPS, WMF and EMF. It's the first enterprise level command-line solution to power both conversion and creation of PDF files. It goes beyond PDF to also offer a variety of industry-standard vector and raster output formats so you can transform your content into whatever you need for web, print, editing or archive. Based on almost 20 years or customer feedback, you won't find a more mature solution or one that packs as much value into one platform.
Features
Simple command-line interface and easy-to-edit options file
SDK available to integrate conversion engine  in your own application
The engine is optimized for reliability and performance in high volume, scalable solutions
Supports PDF, PostScript and EPS input formats.
Extensive control over conversion parameters.
Multiplatform availability for Microsoft Windows, Linux and Mac OS X.
Choose preconfigured modules or mix and match just the input and output formats you require
Custom development can be arranged (customization, feature extensions)
Supports many mission-critical enterprise level processes such as digital archival, compliancy and regulatory applications, workflow automation, Web and print publishing and on-demand services.
During evaluation and purchase, a Visual Integrity Integration Advisor will review your files at no charge to ensure an optimal configuration.
Includes all functionality in PDF FLY.
Outputs industry standard vector output formats which are scalable and editable at the text and object level including PDF, EPS, SVG, WMF, EMF, DXF, PS, HPGL and CGM
High-fidelity image formats for Web and office including JPEG, GIF, PNG, BMP and TIFF can be generated at ideal resolution settings for print or screen display
Options to map, reference, substitute or outline Type 1 and TrueType fonts to compensate for font mismatches between source and target systems
FLY Batch Server is a proven multi-platform, enterprise-class server solution for batch conversion. All servers have an annual limit of 25,000 file conversions. For higher level volume or unlimited capacity pricing, contact us for a price quote. Options include:
Note for our customers: If you have purchased any of our products and want to upgrade, please login to your account. If you are a current user of a competitors' program and want to trade-up to FLY Batch Server, let us know and we'll give you a coupon code to use.
How FLY Batch works…
For PDF, PostScript & EPS
1. Download and install the current version of PDF FLY which includes the FLY Batch engine
2. Set up the command line executable by adding the installation path of PDF FLY to your %path% variable.
3. Edit the Options file (*.ini) with custom settings if required
4. Convert
To convert PDF files, run pdf2xxx (Options file is pdf2xxx.ini).
To convert PS or EPS files, run ps2xxx (Options file is ps2xxx.ini).
For WMF & EMF
1. Download and install the current version of META FLY which includes the FLY Batch engine.
2. To set up the command line executable, you need to add the installation path of META FLY to your %path% variable.
3. Edit the Options file (*.ini) with custom settings if required
4. Convert.
To convert WMF files, run wmf2xxx (Options file is wmf2xxx.ini).
To convert EMF files, run emf2xxx (Options file is emf2xxx.ini).