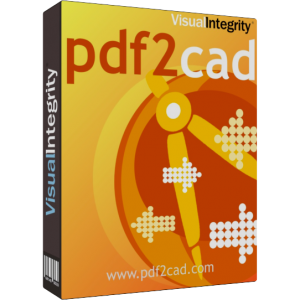 pdf2cad Mac – Accurate and Powerful.
pdf2cad Mac has been designed from the ground up to take advantage of the familiar Apple Mac OS X interface. At the same time, its power runs deep. This easy-to-use tool is built on top of the same proven and reliable PDF conversion engine that drives our enterprise and developer tools.  It is destined to become an indispensable aid for Mac-based engineers who receive PDF drawings and need to convert them into editable CAD formats. Choose from three industry-standard vector formats for optimal reuse - DWG, DXF and HPGL.
Since 1995, pdf2cad has been relied on by engineers worldwide to instantly and accurately convert PDF files into fully editable CAD files. Now available for Mac OSX, pdf2ad conforms to Macintosh standards while containing all of the features and power expected from the first and best PDF to DWG conversion tool. With pdf2cad on your Mac, you'll be able to unlock the objects, layers and text within PDF files and transform the into editable CAD drawings. Choose from DWG for AutoCAD, DXF, the industry's CAD interchange format or plotting standard HPGL. Try it today. Available now through the Apple Mac App Store, IMSI/Design and direct from Visual Integrity.

     30 Day Free Trial for Mac OS X   Buy pdf2cad for Mac $195
Save $66! Use Coupon Code CAD0129MAC at checkout and get pdf2cad Mac for just $129.
.
Features in pdf2cad Mac
Convert PDF files into standard CAD interchange formats, DWG, DXF and HPGL
Convert one file or multiple files using the built in batch mode
Convert all pages or specify a page rage
Intelligent object recognition
Concatenates characters to form editable words and lines of text
Cropping
Add white space to page
Rotate output by any degree
Option to ignore text, images or paths during conversion
Map fonts for high fidelity file match
Scale page to match original dimensions of file
Specify minimum line width
Separates layers in CAD drawing based on color or other definitions
Dashed and dotted lines as segments
Saves all images as references
Command-line version and API available for developers
Expanded support for non-standard fonts
Option to remove or outline hatches and fills
Improved reporting on errors and warnings
Streamlined interface for faster and easier conversions