FLY SDK | PDF SDK
FLY SDK is a very powerful PDF SDK technology platform which enables PDF creation, conversion, merging, marking, editing, import and export within your applications. With easy access via DLL/API or command-line, all industry-standard input and output formats are supported – both vector and raster.
[block]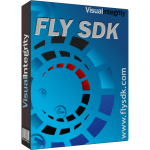 FLY SDK
 – With just two calls, you can access the robust PDF creation and conversion engine along with its abundant options to add features to your application. Open or import PDF files in your software, edit or save them in your native format or generate PDF files from within your application. For each FLY SDK module, including the PDF SDK, pricing is based on the number of users you distribute your final application to starting at just $995 for the SDK plus 50 RTU licenses. >
more
 [/block] [block]

FLY SDK – CUSTOM API
 – Create your own conversion engine with the CUSTOM SDK or use it for text extraction, image handling, search functionality or finding objects based on data in a PDF page. [/block] [block]
New!
FLY SDK – PDF SDK
 -Use the PDF SDK API calls to create PDF files from scratch, add contents to an existing PDF file or combine existing PDF files. In addition the PDF SDK includes API functions to convert PostScript, WMF or EMF to PDF. Because the PDF SDK does not rely on printer drivers or other intermediate steps, it performs faster and more accurately.[/block] [block]
Try FLY SDK
– Use the form below to tell us a little bit about your application and to find out which SDK is best for you. Once you register and let us know what output formats you need, we'll send you an email with download links to the evaluation SDK. You'll also have the opportunity to ask questions, request information or get a call-back. [szb link="https://visual-integrity.com/forms/which-sdk-is-for-you/" color=grey]Try FLY SDK[/szb] [/block] [block]
Talk to us
 -For more than 20 years, we've been perfecting our PDF conversion technologies. It's used by OEM's as well as corporate developers to embed PDF import and edit technology into their applications. You'l find it in software from Oracle, GstarCAD, Equilibrium, Ashlar Vellum, Graebert and ProgeCAD. Tell us about your challenge and we'll see if FLY SDK fits. Call us, send an email or chat with us using the tab on the left. We're looking forward to hearing from you![/block] [block]
Ready to Buy FLY SDK or the PDF SDK?
Click here for pricing. All SDK's are delivered immediately via a download link and all major credit cards are accepted as well as PayPal. [szb link="https://visual-integrity.com/products-cat/buy-fly-sdk/" color=grey]Buy FLY SDK[/szb][/block] [block]

FLY SDK Annual Subscription
– As an alternative to purchasing a FLY SDK license, you can now choose an affordable, all-inclusive annual subscription including software, updates, support and runtime licenses. [szb link="https://visual-integrity.com/products-cat/new-fly-sdk-subscription/" color=grey]New! FLY SDK Annual Subscription[/szb] [/block]